6 Polo and Equestrian Inspired Brands
Not everyone has the taste to like the best, it's just you who get the right flavor. Come, open your eyes to equestrian-inspired brands that LA POLO chooses for you.
Open the window to the world outside and you will find a busy street full of brands, leaving you in perplexity. But LA POLO sorts it out for the equestrian enthusiasts in you, enlisting 6 brands which are inspired by the similar enthusiasm.

1.Cavalier
Cavalier is dedicated to the production and marketing of fine, handcrafted, bespoke polo clothing and accessories. With Cavalier, one can enjoy the pleasure of customizing their helmet in just a few simple steps. The process is amusing and satisfactory and is the unique selling proposition of the brand. All the products at Cavalier are manufactured with the best and most advanced technology and materials. The aim is to provide the polo fanatics with safety, strength and satisfaction of quality control. The brand essentially focuses on transmitting the most prestigious energy about the sport.
The helmets are hand-made with a high-density rubber to absorb high impacts with a cover made of a soft-shell material which is waterproof, colorfast and offers major protection and safeguarding. Cavalier polo helmets are ultra-light, comfortable, padded at the interior with a Velcro-fastener and an extra-interchangeable cushion. Cavalier Polo Ranch provides its customers with the luxury to identify themselves with their sleek helmets. What took off as polo and mallet bags brand has now spread its expanse to include helmets, caps, beanies, apparels and more.
2.Casa Fagliano
Argentinean atelier Casa Fagliano is an 1892 brand established by Pedro and Giacomina Fagliano. With its fine craftsmanship and historical significance, the brand is a heritage and pride of being a leading equestrian and fashion footwear manufacturers. One of the oldest and most important families of footwear artists, this brand speaks volumes of its timeless design and unique technique. This family legacy draws illustrious customers from around the world for their exquisite handcrafted and bespoke polo boots. To produce their boots, the Fagliano family still uses their 100-year-old machinery and techniques with intricate and scrupulous attention to the details. The boots are assembled from the finest select cordovan, calfskin and buffalo skin.
Soles and wooden lasts are prepared and mounted on quality heels for the firmest experience. The product is finished by hand-polishing. Casa Fagliano has been making their boots without the aid of any modern amenities and has had an affluent clientele including top polo players, well-known celebrities, bureaucrats and aristocrats. They only produce 90 pairs of boots in a year and keep the most important men in the world in their waitlist for over a year. Casa Fagliano's age-old workshop is in Hurlingham, Buenos Aires and they ensure to produce the finest, most excellent quality of leather boots in the world.
3.Pampeano
This Argentinean hand-crafted leather brand is inspired by the South American artistry and is instantly recognizable because of their immense uniqueness. Pampeano literally means 'from the Pampa', a region in Argentina known for its scenic terrain. The brand offers personalized leather polo belts, hand-stitched and hand-woven with the iconic 'pampa' diamonds. The Argentinean artistry is combined with South American style and British luxury to produce the epitome of polo boots and belts. Their exclusive collection of formal, coloured leather polo belts is class apart and encases richness like no other. Its exclusive Moda boots are fluently fashionable especially when teamed with the Pampeano leather polo belt.
The Moda boots attribute a full-length central zip at the front with the top zip guard hand woven with their distinguishable Pampa diamond studded on it. The boots are majorly in three colours namely London tan, honey brown and black with a smooth, supple and luxurious texture to ensure its purpose to be fulfilled for many years and duties to come. Vivid wax-dripped saddlery threads are used to hand weave meticulous patterns which cannot be replicated by a machine. Pampeano has unparalleled quality and style.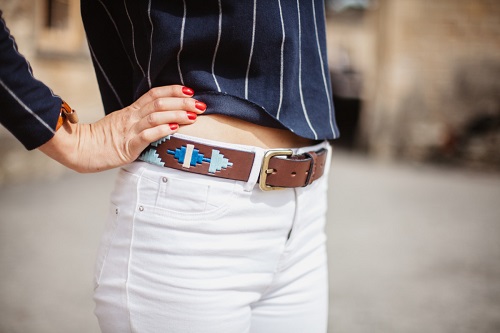 4.U-Black
Elevate your equine's luxury statement with the utterly beautiful and opulent U-Black story of a horse, Unno, with a big personality whose beauty and spirit inspired an equestrian collection. Dedicated entirely to the horse, the brand focuses on donning the beautiful being in passion, desire and style. The brand is an expression of the horse's personality. The wonderful Unno is a social influencer with its charm and elegance beaming in the form of this exquisite range of horse apparels, saddle pads and covers, bonnets, bandages, blankets, stirrup covers, spurs and more with the definition of Unno, pure blackness.
With the Made in Italy excellence and sartorial perfection, U-Black's unmatchable style combines pure blackness with precious golden inserts. Black beauty is the brand's intrinsic identity. To invoke the divine connection of the horse being the most beautiful creature, obsessive attention is paid to details and finishing. Each item is perceived with luxurious, softness of velvet with precious gold and silver and in other materials such as microfiber, boiled wool and pile. U-Black is a warm gesture of affection to your horse.
5.Celeris
Home of the made-to-measure, supreme riding boots and accessories, Celeris provides the most meticulous and impeccable bespoke riding boots. Synonymous with passion and quality, the brand offers a collection of design features to infuse your personal statement from. The brand has gained immense popularity in the legion of professional riders and amateurs alike. Celeris aims at delivering outstanding performance and premium fit. Manufactured in a small workshop in North Portugal, every single boot is handmade with traditional skills and the finest material and premium accessories. It is an appointment-only bespoke equestrian service. Exactly 24 measurements are cast to extract and executed the perfect fit for every equestrian.
The Celeris boots models are true multi-taskers and perfect for any equestrian discipline. There is an excellent variety of rich leather-made models which can be made to fit you according to your style and need.
6.Vestrum
Vestrum is a producer and distributor of clothing for horse-riding and technical luxury accessories. The company came into operation from the amalgamation of designer Fabio Calamari's passion for horses and his long, illustrious career in fashion designing. The company only chooses Italian suppliers that fulfill the brilliance requirement for the purpose of accomplishing a distinct product meeting the supreme degree of Made in Italy excellence.
The attentiveness and observations made in the production and material research and development solely aim at creating the most stylistic equestrian imprint. The craftsmanship stands out with its tailoring and technical riding wear and the standard of quality is extended to accessories as well. The brand functions on the themes of refinement of the fabrics and accessories to a fashionable zenith and are promoted in the major equestrian events across the globe.